SPRING / SUMMER HAIR TRENDS 2018
THE WET HAIR LOOK
Whether it be slightly sprayed wet or an all round wet look – this look will definitely be seen a lot more this season. Pick one of two options, flattened and slicked down for an ultra sleek look OR dishevelled and rebellious for a grunge edge.
XXL WAVES
The ultra long hair trend will be hanging around longer, a beach breeze look is a must have this season with care free locks.
THE TOMBOY HAIRCUT
The short pixie cut is back with a vengeance! Hair being brought over to one side or hair simply being cut in by your stylist. This Boyish look has been labelled as a "Statement Trend".
THE HAIRCLIP
Definitely among this seasons accessories.
CURLS
Wild, energy filled manes, the bigger the better – let the personality shine through.
THE HEADBAND
The most simple hair accessory is set to give presence this summer – mainly mono black OR white, for a sporty feel.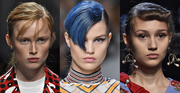 THE NEO FRINGE
Retro to colourful and edgy, the classic fringe has come back for a bold, statement look.
THE WRAPPED PONYTAIL
Basically a ponytail with a difference! Whether it be wrapped in thread, a flexiglass tube or a printed scarf – Its cool, Its fun, Its chic!
REGRESSIVE ACCESSORIES
The idea is to place multiple toys in your hair, soft toys, cars, pearls…. Anything goes!
How daring are you? ;)
SCATTERED STRANDS OF HAIR
A revamped "wet look" trend. Strands of hair folding over your face, as though just coming out of the pool.
SPRING / SUMMER FASHION TRENDS
There is a whole host of different come back trends this season… Here are my favorite must knows…..
Bold, Bright and rather Beautiful! Colour is key. The 80's is doing its rounds again – Bold or Pastel, Shoulders or Stilettos – the options are endless. Girls who like to dress up will be ecstatic, Minimalists and Tomboys have plenty to choose from.
1980's by Day
Strong shoulders, nipped waists and long legs – All about the silhouettes.
1980's by Night
Over the top evening wear for those who like to make a statement OR more of a casual approach simply with a pair of mom jeans paired with a cute pair of ankle boots.
VIP BASICS
More classic, investment pieces..
TRENCH COATS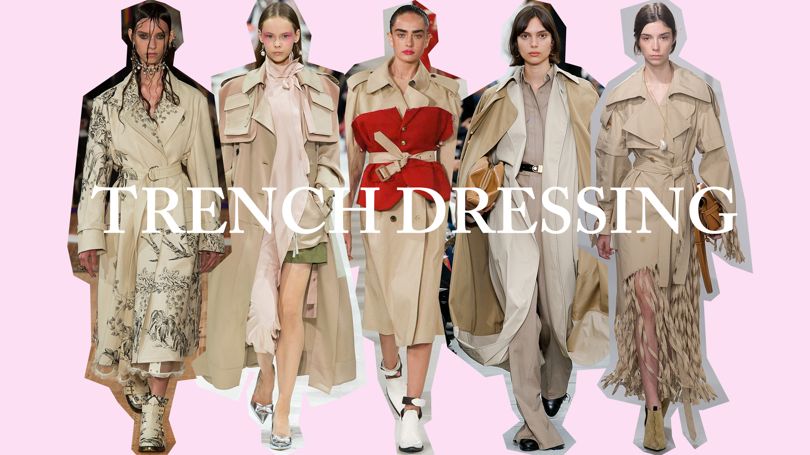 To be worn with everything! From bikinis to boardroom attire – deconstructed and warped into something unusual or doing it in classic tradition.
Geeky Sneaks paired with socks and Velcro will be parading the streets any day now.
A perfectly tailored suit is totally worth spending money on – these days, finding a style to match your personal taste is very likely. Make a statement – tone it down – the options are endless.
A serious bag trend is about to hit spring 2018 – MUST HAVE!
What a come back. This time round – longer lines, therefore more flattering.